1: BIO IMPEDANCE TESTING:
2: DNA GENETIC PROFILING
3: HORMONAL TESTING
4: LIVE BLOOD SCREENING(SEE HEMAVIEW PAGE)

5: URINARY PH
What is Bio Impedance Testing (BIA)?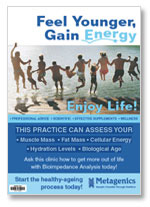 BIA is a science that was originally developed for monitoring patients after surgery in a hospital setting. Bio Impedance Testing gives us insight into many aspects of your health such as how much fat and muscle you have in your body, cellular energy created, and what you body's fluid balance is like – i.e are you holding onto too much fluid outside the cells, making you puffy?. This science has even been used in several missions to space, to monitor the changes to the astronauts' body compositions.
We do this test on our clients with symptoms of fatigue to see how well their cellular energy is firing.
On clients with weight loss challenges
"Once a month I weigh in and have a BIA test to measure fat versus muscle and this has been a really good motivator for me as well. Especially good when the scales are not showing much of a difference. It is easy then to think I am not making progress, but the BIA shows otherwise. I have lost 27kgs and I can now really enjoy looking after my granddaughter, and going on walks with my husband. Life is so good!! There is more work to do yet, but with Paddy and John on my team I know I will get there.
LizG2014″
On clients who want to perform better as athletes – 'tweaking' their performances and giving us a better understanding of which pathways to support nutritionally – through diet and supplements.
Who wants more vitality?
People who may benefit from our healthy aging programme include those who want to:
Manage their weight more effectively
Increase muscle tone and fitness
Improve energy levels
Age healthily
Support the nutrition and health of their cells
What will I receive?
Our Registered Nurse will do a Bio Impedance test + blood glucose + 'full cholesterol' testing with instant results. This together with your Blood Pressure reading gives a good indication of your current health status. This full health check is available for just $ 99.00
We will assess these results and then design a strategy with you to improve key areas. We will also monitor your results over time, so that you can see how your health is improving. Your health is your greatest asset – discuss what you can do to optimise this with us today.
2: Some of the other tests we can perform or organise for you are:
Adrenal assessment (for ongoing fatigue not relieved by sleep)
Bio-Impedance Analysis
Blood Pressure (free with BIA screening))
Candida Antibodies (IgA + IgG Ab)
Cholesterol – full screening including HDL, LDL, triglycerides + ratios. (finger prick – instant results)
Comprehensive Digestive Stool Analysis
DNA Genetic profiling Testing (saliva)
Female Hormone Profiles
Female 28 Day Cycle Profile
Food Allergy – IgE or IgG or IgAGeneral Foods

(96 foods)
Food Allergy – 24 Herbs & Spices
Food Allergy – IgG , IgE or IgAVegetarian Foods

(96 foods)
Food Allergy – general hair testing
Food Intolerance – Kinesiology
Gastrointestinal Stool Analysis +/- Parasitology
Glucose (finger prick)
Heavy Metal Testing (Hair and/or urine)
Iodine/Thyrodine test

(Urine & Saliva)
Liposcreen LDL – Sub Fractions
Live Blood Screening (Hemaview)
Male Hormone Profile
Salivary Cortisol Test
Thyroid Function Comprehensive
Zinc Taste Testing (free with initial consult)
We can also organise external pathology testing as deemed necessary, and have access to all your previous lab results if you so wish

How do I find out more?
If you want to take the next step to improving your health and well-being, call us today. We can advise you about all our services and tell you more about how they can benefit you.