SPORTS MEDICINE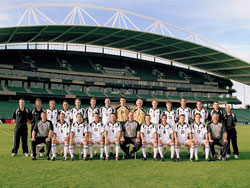 Whether you are a professional athlete, or just play the occasional match, John can provide you with techniques for prevention and recovery.
From a simple muscle strain to a recurrent or complex injury, John will give you the continued support needed to get you back in the game.
We have an extensive range of sports supplements available.
For the endurance athlete, we have protein shakes and bars and even drink bottles! Visit www.endura.com.au
Scientific research has shown that sports drinks can improve performance, but which ones are the best? Many sports drinks contain high levels of sodium and potassium and do not provide the right balance of electrolytes for optimal performance. Most do not contain the mineral magnesium and are nothing more than sweetened salt water.
Be assured, you are in the best possible hands for your injury, John has worked as the physiotherapist for the following sports teams and clubs:
The New Zealand All Whites Football team
NZ " A" Cricket team
Central Districts Cricket
Napier City Rovers Football
Wests Rugby and Norths Rugby Clubs, Brisbane, Australia
assistant to the Brisbane Broncos
assistant at the Australian Tennis Open, 1992
Wellington Firebirds Cricket
Wellington Lions Rugby
Ardmore Rugby Club
Mauku Cricket Club